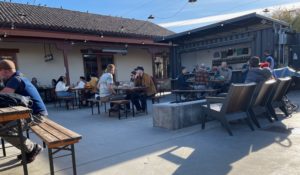 Place: Pacific Bowls and Sushi Rolls
Category: Sushi, Bowls
Website: https://www.pacificbowlsandrolls.com/
Yelp: https://www.yelp.com/biz/pacific-bowls-and-rolls-monterey
Location: 475 Alvarado St, Monterey, CA 93940
Date of visit: 2020 November 28
On Sunday November 28, 2020 I went to Fieldwork's Monterey Beer Garden for a late lunch. However, as you can tell from the title, this is not a review of the beer garden as that wouldn't be new and in normal times they don't serve food. However due to California COVID-19 restrictions they need to serve food in order to open. If you want to hang out there you must buy food. What's a beer garden to do? Partner with a local restaurant to prepare the food for you! Other similar places in the area have done this or have brought in food trucks. In Fieldwork's Monterey's case they partnered with Pacific Bowls and Sushi Rolls, and this this entry in Ed's Eats.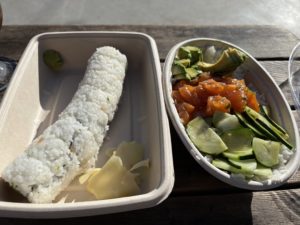 I should start by saying I am not a sushi (or poke) connoisseur. I like sushi but don't have it often. I decided to order a Spicy Tuna Roll and a half Lomi-Lomi Salmon Bowl to go with my beer. One reason why I went with the Spicy Tuna Roll is it was the only roll without avocado. They seem to put avocado on everything out here and I am not a fan. One food item I dislike even more than avocado and mayo and some of the other rolls had that on it. Yuck! I can't imagine how much I would dislike avocado and mayo on the same roll!
Regardless of the reason for getting the spicy tuna roll thought it was very good. It was also much bigger than I expected for the price ($7.50). In fact, I probably wouldn't have bought the bowl had I known how big it was. I will say that some of the size was due to the roll having a lot of rice however that does not mean that they skimped on the tuna. For the price there was a good amount of fish—more than I expected—but a lot of the overall bulk was rice. If you are a sushi aficionado you might not want all of the rice on your roll but for someone having lunch at the beer garden I was happy to have more food to eat and the rice was well-prepared. Again, the amount of rice did not mean that they skimped on the tuna and I guess you could ask for less rice or scrape some off.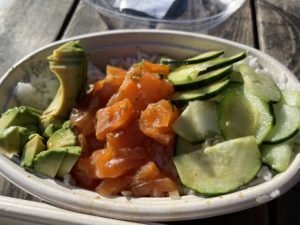 The half Lomi-Lomi Salmon Bowl was also very good. It contained salmon, ponzu sauce, tomato, green onion, sweet onion, cucumber, furikake, avocado. As you might have guessed I didn't eat the avocado but the rest was good, especially the salmon. I felt the serving side was appropriate for the price ($8 for a half bowl and $15 for a full).
Personally I liked the roll better than the bowl but that doesn't mean the bowl wasn't good, it was. I just prefer rolls.
Since I had my food delivered to the beer garden I can't speak to the facility or customer service but I will say the food was neatly packaged and it arrived quicker than I expected.
As I said I am not a sushi aficionado, but I would definitely go back to Fieldworks and order food from Pacific Bowls and Sushi Roll again. Unless I was very hungry I would probably just get the roll or a bowl and not both just because it was more food than I needed. Although if it was you main meal of the day it would be worth getting both or multiple rolls.
Incidentally, Fieldwork's Monterey Beer Garden is a nice place to go. It is completely outside and they have really good social-distancing procedure in place. Also, it is a good place to stop before going into Trader Joe's since it is in the same shopping complex.