Place: German Restaurant Stammtisch
Category: German
Website: https://www.stammtisch-seaside.com/
Yelp: https://www.yelp.com/biz/german-restaurant-stammtisch-seaside-2
Location: 1204 Echo Ave., Seaside, CA 93955
Date of visit: 2020 December 22
On Tuesday December 22, 2020 I order takeout from German Restaurant Stammtisch. I heard about this restaurant slightly after I moved to Monterey a few years ago but for some reason I thought it closed. I think I had the location incorrect and I saw a new restaurant open where I thought it was. Regardless of the reason, because of that I never been here. Definitely my loss! I really enjoy German food and the meal I got from Stammtisch was outstanding
With COVID restrictions not allowing dine-in (or even outside dinning) right now, Stammtisch has a limited menu available for takeout but that menu includes many of the items you would expect. After going back and forth between Jaegerschnitzel and Stammtischschnitzel, I chose the latter mostly because I figured the gravy in the Jaegerschnitzel might soak into the meat too much as I drove home after picking it up (although I'm sure I could have asked for the gravy in a separate container). Additionally the Stammtischschnitzel has bacon in it so of course that was also a huge factor! Their menu describes it as "breaded pork steak, smothered with fresh bacon, mushrooms and sautéed onions." It was served with home fried potatoes, salad garnish, and the soup of the day. I also got some German beer (on tap) to go (it was a lager but I am not sure what brand).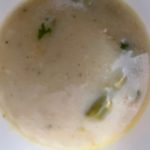 The soup of the day was a cream of asparagus. It was amazing. I can't say I've had cream of asparagus soup a lot but I do enjoy cream soups (usually cream of mushroom or cream of broccoli) and this was possibly the best I've ever had.
The pork was cooked perfectly and the topping of bacon, mushrooms, and onions was delicious and the amount of each ingredient was good. I particularly liked that they did not use too many onions. I would highly recommend the Stammtischschnitzel. The fried potatoes were also extremely good.
I felt the price was better than average for the area considering the quality and quantity of food. Service-wise it is hard to judge when getting takeout but the food was ready when it was supposed to be and the staff (owners?) were very friendly and even gave me an extra container of beer for Christmas (They mentioned that they needed to use it up or it would go bad, so I was happy to help them out!). They also helped me carry the food out to my car. The interior of the restaurant looked nice and I look forward to dinning in person at some point in the future.
Really, everything was excellent and my only complaint is I didn't go here sooner! If you live in the area (or are visiting) and like German food, definitely check German Restaurant Stammtisch out.