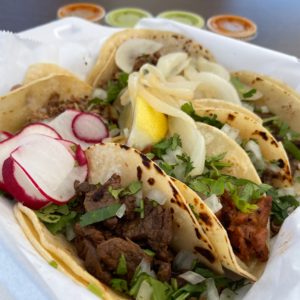 Outside of La Imperial Taqueria on Shafter, California.
Place: La Imperial Taqueria
Category: Tacos; Mexican
Website: https://laimperialtaqueria.com/
Yelp: https://www.yelp.com/biz/la-imperial-taqueria-shafter
Location: 189 E Lerdo Hwy, Shafter, CA 93263
Date of visit: 2021 May 8
On Saturday May 8 I decided to head to Bakersfield Speedway for some traditional sprint car races. Because of COVID they said their concession stands would be closed (although they ended up have some food for purchase under a tent). You can bring food in with you, but I decided to stop at La Imperial Taqueria in Schaffer, California instead. I got 6 tacos: 2 of each of Asada, Carnitas, and Pastor. They came with some lightly pickled onions and some slices of radish. The pickled onions were good but nothing amazing and the radishes were radishes: nothing much to say about them except they were fresh and tasty.
You might not be able to get the best pizza in California but you can get some darn good tacos. That's what these were! They had a lot of meat considering the $2 each price tag. All three kinds I ordered were outstanding and I'd definitely get them all again. La Imperial Taqueria might become a routine stop on the way to Bakersfield Speedway for me. If I had to pick one of the three that was the best, I'd say the pastor was but, as I said, they were all great.
I don't see myself going back except if I'm going to the races because I'd have no other reason to go near their location otherwise and it isn't right
off the Interstate. Apparently, they have two other locations. One in Bakersfield and one in Wasco. Perhaps I can get to one of them (most likely the one in Wasco before a Wasco Reserves Pecos League baseball game).