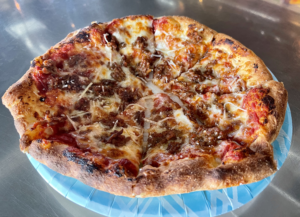 Place: Central Coastan Pizza
Category: Pizza
Website: https://www.instagram.com/centralcoastanpizzallc/
Yelp: n/a
Location: Mobile Food Truck in the Salinas area (this visit was outside of Post No Bills in Sand City
Date of visit: 2021 May 7
I am originally from New Jersey which is the Best Pizza State in America. I have high expectations when it comes to pizza but I realize it is basically impossible to get great pizza west of the Delaware River. Therefore, when I get pizza in California I need to accept that it won't be great. It might be good enough, but it won't be like one of the finest pizzas in the world that you can get at many pizzerias in the Garden State.
That said, a good pizza is still good enough and just because I can't get the best pizza I am not going to bite off my nose to spite face and I will still eat and enjoy pizzas out in the land of avocados. When I saw that Post No Bills had a wood-fired oven pizza food truck (Actually a tent with a pizza oven on a trailer) outside of their place, I decided to give it a try.
I ended up getting a sausage pizza. The sausage was pretty good. The rest of the pizza was, as expected, not New Jersey pizza but for California I was quite pleased with the combination of dough, cheese, and sauce. I wish the pizza was a bit larger tough. Overall, I was satisfied and I wouldn't hesitate to get another pizza from Central Coastan Pizza. It was tasty after a long week and I enjoyed it with a craft beer or two from Post No Bills.