Place: By the Bay BBQ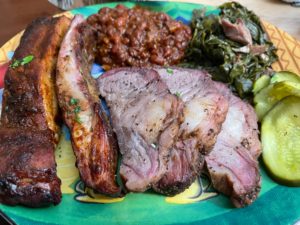 Category: Southern barbecue
Website: https://bythebaybbq.com/
Yelp: https://www.yelp.com/biz/by-the-bay-bbq-seaside-3?osq=bbq
Location: 775 A Trinity Ave,, Seaside, CA 93955
Date of visit: 2020 December 17
On Thursday December 17, 2020 I order takeout food By the Bay BBQ in Seaside, CA. This is a new restaurant located where the Fishwife was in Seaside on the corner of Fremont and Trinity. I am a little confused as to what is going on but it looks like there are now two restaurants in one place: By the Bay BBQ and Seaside Seafood & Market. The Seaside Seafood & Market has a message on their website as of this writing that says "In addition to our Seaside Seafood & Market, we our debuting out By the Bay BBQ menu for your Southern Food needs." It appears to be the same business but with two separate online presences and completely different menus, however, I am not 100% sure what the true connection is. Anyway, the BBQ portion is new and I only found out about it because I was browsing Yelp! in search of a new place to try and it popped up.
Some of the menu items are named after famous Alabama barbecue places. If you are going to name one of your dishes "Dreamland" Pork Spare Rib Plate you obviously think very highly of your BBQ skills or are delusional (maybe both?). I lived in Tuscaloosa, Alabama so I know Dreamland Bar-B-Que. When I was considering my order I thought to myself if they are even half as good as Dreamland they will do good here.
Another thing that stands out on the menu is that they seem to specialize in Alabama White BBQ sauce. I general I do not like white sauces of any type and I definitely do not like white BBQ sauce. It is an evil trick to get you to eat mayonnaise. Yuck! While they added a container of the sauce to my order I refused to partake in even a small sample so I can't tell you how well they made it. If you like mayonnaise, however, you should give it a try because I hear mayo lovers say it's good, especially with chicken. They did not put in any regular BBQ sauce so I will need to ask for that next time (assuming they have it).
I ordered the Choice of 2 Smoked Meat Platter. I chose the ribs and brisket for my meats and for my 2 sides I ordered the molasses baked beans w/ pork belly and collards w/ smoked ham hock. They also threw in some of their "B+B's" signature bread & butter pickles.
Let's start with the three sides. There were all amazing. I. think I liked the collards a little more than the baked beans but both were delicious. The pickles were also extremely tasty. Definitely don't just buy the meat if you go to By the Bay! I look forward to trying some of their other sides in the future.
As I mentioned earlier if you are going to be Dreamland on your BBQ menu you better have top notch BBQ. I will say the flavor of both the brisket and the ribs were quite good but, as expected, they were not Dreamland tasty. While I enjoyed the flavor I felt that both the of meats I tried were not as tender as I'd like. I wonder if maybe they had a huge rush on orders and I ended up getting something, while cooked through, was not cooked as long as it should've been to be fall off the bone or fall apart tender. I say this in part because some Yelp! reviews had high praise and one even mentioned "fall apart brisket" which is not how I'd describe what I ate. That said, they were still good and I should add that the ribs were very meaty. Based on the reviews I think I might have not got their best product as far as the meat tenderness goes so I will give them another chance (and regardless of the meat, I need more of those collards). I'll update my review or put something in the comments after I go back. Next time I'll probably try the pulled pork but I'd also like to give the ribs another chance.
When I was placing the order I thought they were a bit overpriced. After tax my order came out to just over $30.00. Once I picked up my food, however, I changed my mind. The portions are very generous so you get what you pay for (at least on the Monterey/California curve where everything is expensive). So if you look at the menu and think the prices are too high, remember that they do not skimp on what they give you. My meal was probably enough for two people although I might order an extra side if I was ordering for two adults.
We are in COVID lockdown here in Monterey County so I got the food for takeout. As with my last post, I really can't say much about the service but the person that gave me my order was friendly and the food was ready on time so no complaints. I'll definitely try By the Bay BBQ again and I also plan on trying their other restaurant, Seaside Seafood & Market, in the future.