Place: Hunter's Drive Thru
Category: Road Food, American, Burgers
Website: http://huntersdrivethru.com/
Yelp: https://www.yelp.com/biz/hunters-drive-thru-ely
Location: 1455 Aultman St Ely, NV 89301
Date of visit: 2021 April 10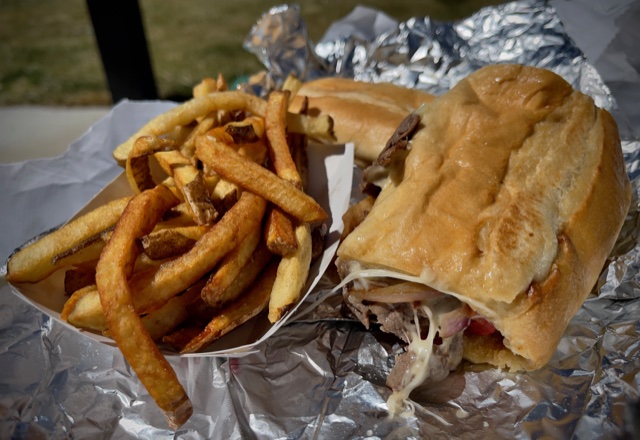 Hunter's Drive Thru is located in Ely, Nevada. When driving into Ely I wasn't very hungry but since Highway 50 is "The Loneliest Road in America" so if you are starting to get hungry or are getting low on fuel, you better stop while you got the chance. Besides, I really do like old-school drive thru's and driver in's.
Hunter's serves breakfast, lunch, and dinner. I was driving through mid-day so I ended up getting lunch. More specifically, I got a cheesesteak and fries. The cheesesteak exceeded expectations and the fries were really good as well. The cheesesteak wasn't Philadelphia good but the roll, meat, cheese, and everything else was tasty. I went at a busy time so the service was not as quick as it otherwise would have been but I still received my meal within a reasonable amount of time. The service was also friendly so no complaints there.
Instead of eating the food in my car or at one of their tables, I drove down the road a s minute or two and ate in Courthouse Park in the center of town which turned out to be a good choice as it was nice and shady. I recommend considering doing that, especially if Hunter's is crowded and there are no tables available.
If you find yourself in Ely, skip the fast food chains chains on the edge of town and head here or to one of the other local places in town.